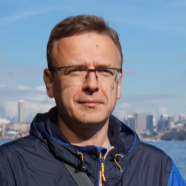 dr hab. inż. Adam Szymkiewicz
Associate Professor
Workplace

Budynek WILiŚ pokój 404

Phone

(58) 347 10 85
The paper presents an evaluation of the combined use of the HYDRUS and SWI2 packages for MODFLOW as a potential tool for modeling recharge in coastal aquife rs subject to saltwater intrusion. The HYDRUS package for MODFLOW solves numerically the one-dimensional form of the Richards equation describing water flow in variably- saturated media. The code computes groundwater recharge to or...

This paper presents experimental verification of the mathematical model of unsaturated flow in double‐porosity soils developed by the asymptotic homogenization method. A series of one‐dimensional infiltration experiments was carried out in a column filled with a double‐porosity medium composed of a mixture of sand and sintered clayey spheres arranged in a periodic manner. The unsaturated hydraulic properties of each porous material...

Degradation of groundwater quality can cause a serious water supply and environmental problems. The identify of potential groundwater pollution can be determined by assessment of groundwater vulnerability method. The assessment of groundwater vulnerability to pollution was based on estimation of migration time of potential conservative contamination through the vadose zone. Area of investigation is a type of denudation moraine...
Obtained scientific degrees/titles
Obtained science degree

dr inż. Environmental engineering

(Technology)

Universite Joseph Fourier, Grenoble, Francja
seen 225 times