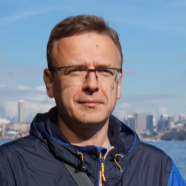 prof. dr hab. inż. Adam Szymkiewicz
This paper presents experimental verification of the mathematical model of unsaturated flow in double‐porosity soils developed by the asymptotic homogenization method. A series of one‐dimensional infiltration experiments was carried out in a column filled with a double‐porosity medium composed of a mixture of sand and sintered clayey spheres arranged in a periodic manner. The unsaturated hydraulic properties of each porous material...

W artykule przedstawiono numeryczne rozwiązania równania Richardsa, opisującego nieustalony przepływ wody w uwarstwionym gruncie nienasyconym. Przeanalizowano różne metody obliczania średniej przewodności hydraulicznej między węzłami siatki numerycznej oraz różne możliwości położenia węzłów względem granic warstw gruntu. Najlepsze wyniki otrzymano stosując metodę uśredniania stanowiącą adaptację wcześniejszej propozycji jednego...

The paper presents an evaluation of the combined use of the HYDRUS and SWI2 packages for MODFLOW as a potential tool for modeling recharge in coastal aquife rs subject to saltwater intrusion. The HYDRUS package for MODFLOW solves numerically the one-dimensional form of the Richards equation describing water flow in variably- saturated media. The code computes groundwater recharge to or...
Obtained scientific degrees/titles
Obtained science degree

dr inż. Environmental engineering

(Technology)

Universite Joseph Fourier, Grenoble, Francja
seen 1047 times