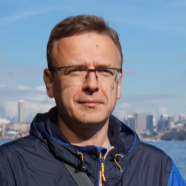 dr hab. inż. Adam Szymkiewicz
W artykule przedstawiono numeryczne rozwiązania równania Richardsa, opisującego nieustalony przepływ wody w uwarstwionym gruncie nienasyconym. Przeanalizowano różne metody obliczania średniej przewodności hydraulicznej między węzłami siatki numerycznej oraz różne możliwości położenia węzłów względem granic warstw gruntu. Najlepsze wyniki otrzymano stosując metodę uśredniania stanowiącą adaptację wcześniejszej propozycji jednego...

The paper presents an evaluation of the combined use of the HYDRUS and SWI2 packages for MODFLOW as a potential tool for modeling recharge in coastal aquife rs subject to saltwater intrusion. The HYDRUS package for MODFLOW solves numerically the one-dimensional form of the Richards equation describing water flow in variably- saturated media. The code computes groundwater recharge to or...

Knowledge related to land-use management impacts on the Baltic Sea ecosystem is limited. The constant release of pollutants into water bodies has resulted in water quality degradation. Therefore, only the innovative approaches integrated with research will provide accurate solutions and methods for proper environment management and will enable understanding and prediction of the impacts of land-use in the Baltic Sea region. Modelling...
Obtained scientific degrees/titles
Obtained science degree

dr inż. Environmental engineering

(Technology)

Universite Joseph Fourier, Grenoble, Francja
seen 572 times