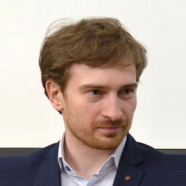 dr hab. inż. Adrian Bekasiewicz
A methodology for fast multi-objective antenna optimization is presented. Our approach is based on response surface approximation (RSA) modeling and variable-fidelity electromagnetic (EM) simulations. In the design process, a computationally cheap RSA surrogate model constructed from sampled coarse-discretization EM antenna simulations is optimized using a multi-objective evolutionary algorithm. The initially determined Pareto...

In this letter, a simple yet robust and computationally efficient optimization technique for explicit size reduction of antenna structures is presented. Our approach directly handles the antenna size as the main design objective, while ensuring satisfactory electrical performance by means of suitably defined penalty functions. For the sake of accuracy, the antenna structure is evaluated using high-fidelity EM simulation. In order...

In this letter, a structure of a small ultra-wideband (UWB) monopole antenna, its design optimization procedure as well as experimental validation are presented. According to our approach, antenna compactness is achieved by means of a meander line for current path enlargement as well as the two parameterized slits providing additional degrees of freedom that help to ensure good impedance matching. For the sake of reliability, the...
Obtained scientific degrees/titles
Obtained science degree

dr hab. inż. Automation, electronic and electrical engineering

(Engineering and Technology)

Obtained science degree

dr inż. Automation, electronic and electrical engineering

(Engineering and Technology)
seen 3178 times