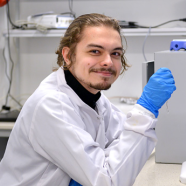 Adrian Olejnik
This work focuses on the application of thermal analysis and kinetics investigations to analyze chemical processes during cross-linking of the complex fast-curing polyurethane system. Non-isothermal Differential Scanning Calorimetry (DSC) measurements were performed for both stoichiometric mixtures of polyol and isocyanate component and for mixture with large isocyanate excess. Isoconversional methods were used to calculate initial...

The detection of glucose at low concentrations using electrochemical sensors is of great importance due to the possibility of using different human body fluids than blood, such as e.g. urine, saliva, sweat or tears. The interest behind those biofluids is related to their utility in non-invasive sugar determination. In this work, we present flexible, fully biocompatible electrode material based on Au nanoparticles immobilized onto...

In this work, a facile method allowing for estimation of the exponent in the Tauc equation directly from the UV–vis spectra is presented. It is based on the Taylor expansion of the logarithmic version of the Tauc equation. The Tauc exponent is calculated from the tangent slope of the absorption data. Knowledge of this coefficient provides information about the optical transition types and is used as an input for the calculations...
seen 1981 times