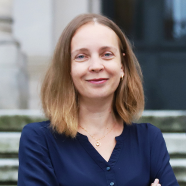 dr Agnieszka Bartłomiejczyk
We analyse a model of Hes1 gene transcription and protein synthesis with a negative feedback loop. The effect of multiple binding sites in the Hes1 promoter as well as the dimer formation process are taken into account. We consider three, possibly different, time scales connected with: (i) the process of binding to/dissolving from a binding site, (ii) formation and dissociation of dimers, (iii) production and degradation of Hes1...

We propose the generalisation of the p53-Mdm2 protein gene expression model introduced by Monk (2003). We investigate the stability of a unique positive steady state and formulate conditions which guarantee the occurrence of the Hopf bifurcation. We show that oscillatory behaviour can be caused not only by time lag in protein transcription process, but also can be present in the model without time delay. Moreover, we investigate...

We deal with a size-structured model with diffusion. Partial differential equations are approximated by a large system of ordinary differential equations. Due to a maximum principle for this approximation method its solutions preserve positivity and boundedness. We formulate theorems on stability of the method of lines and provide suitable numerical experiments.
Obtained scientific degrees/titles
Obtained science degree

dr Mathematics

(Mathematics)

Wydział Matematyki i Informatyki Uniwersytetu Mikołaja Kopernika w Toruniu
seen 4554 times