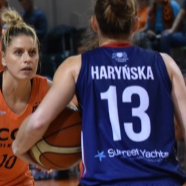 Agnieszka Haryńska
Employment
Katedra Technologii Polimerów
In this study, biodegradable and compostable compositions, derived from totally natural feedstock/raw materials, namely polylactide (PLA), potato thermoplastic starch (TPS) and plant glycerin have been made by melt extrusion with epoxydized soybean oil (ESO) as reactive modifier in order to improve PLAs ductility and reduce the products cost without compromising biodegradation. The obtained PLA/mTPS(0,5ESO)[75/25] and PLA/ mTPS(2ESO)[75/25]...

The possibility of using additive manufacturing (AM) in the medicine area has created new opportunities in health care. This has contributed to a sharp increase in demand for 3D printers, their systems and materials that are adapted to strict medical requirements. We described herein a medical-grade thermoplastic polyurethane (S-TPU) which was developed and then formed into a filament for Fused Deposition Modeling (FDM) 3D printers...

The epidermis is a skin layer, which protects an organism from the different factors of external environment. Therefore, the fast and effective regeneration of epidermis is important. Potential materials used for epidermis regeneration may be polyurethane scaffolds in form of the thin permeable layers. One and main disadvantage of such polyurethane scaffolds are their lack of antibacterial and antifungal properties. The great proposition...
Obtained scientific degrees/titles
seen 443 times