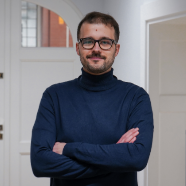 mgr inż. Aleksander Grabowski
Artykuł omawia wyniki metodą elementów dyskretnych (DEM) dotyczace zachowania się strefy kontaktu między bezkohezyjnym piaskiem a sztywną scianą o różnej szorstkości. Obliczenia wykonano dla dla różnej wysokości, nachylenia i rozstawu rowków wzdłuż sciany, które symulowały jej szorstkość. W symulacjach zmieniano dodatkowo ciśnienie pionowe i początkowy wskaźnik porowatosci piasku. Nacisk położono na wpływ szorstkości na mobilizowany...

The paper deals with the quasi-static confined flow of cohesionless sand in a plane strain model silo with parallel walls and a slowly movable bottom. Numerical modelling was carried out by the discrete element method (DEM) using spheres with contact moments to approximately capture a non-uniform shape of sand particles. Different initial void ratios of sand and silo wall roughness grades were employed. Regular triangular grooves...

W artykule przedstawiono rezultaty numeryczne dla podstawowych testów geotechnicznych: testu trójosiowego ściskania oraz w aparacie bezpośredniego ścinania dla piasku bez kohezji. Wszystkie testy zostały wykonane w 3D, a piasek został wymodelowany w postaci kulek wraz z momentami symulującymi nieregularny kształt ziarna. Podczas badań sprawdzono wpływ parametrów fizycznych (m. in. początkowy wskaźnik porowatości, obciążenie pionowe...
seen 852 times