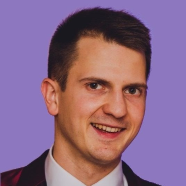 mgr inż. Aleksander Mroziński
This work evaluates porous Sr0.86Ti0.65Fe0.35O3 (STF35) as a possible oxygen electrode material for Solid Oxide Cells. The powder synthesis was performed by solid state method. Characterization included DC electrical conductivity study of sintered bulk samples and impedance spectroscopy study of symmetrical electrodes deposited on gadolinium doped ceria substrates. Measurements were carried out in atmospheres with different pO2...

Solid Oxide Fuel Cells (SOFC) are based on electrolytes and mixed ionic and electronic conductivity (MIEC) materials. The need to reduce costs causes an increase in interest of new compounds suitable for operating temperatures between 600 °C and 800 °C. The SrTi1-xFexO3 (STF) perovskite material is a perspective material that could be used for the oxygen electrodes. In this work STF materials with different content of iron (x =...

This work evaluates the effects of the sintering temperature (800 °C, 900 °C, 1000 °C) of SrTi1-xFexO3-δ (x = 0.35, 0.5, 0.7) porous electrodes on their electrochemical performance as potential oxygen electrode materials of solid oxide cells. The materials were prepared by a solid-state reaction method and revealed the expected cubic perovskite structure. After milling, the powders were characterised by a sub-micrometre particle...
seen 469 times