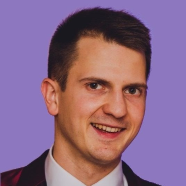 mgr inż. Aleksander Mroziński
Senior Technical Clerk
Workplace

Budynek A Wydziału Elektroniki, Telekomunikacji i Informatyki

Phone

+48 58 347 25 09

E-mail
This work evaluates porous Sr0.86Ti0.65Fe0.35O3 (STF35) as a possible oxygen electrode material for Solid Oxide Cells. The powder synthesis was performed by solid state method. Characterization included DC electrical conductivity study of sintered bulk samples and impedance spectroscopy study of symmetrical electrodes deposited on gadolinium doped ceria substrates. Measurements were carried out in atmospheres with different pO2...

Ce0.8Gd0.2O1.9 (CGO) barrier layers are required to mitigate the chemical reactions between Sr-containing oxygen electrode materials and Zr-based oxygen ion conductors in high-temperature solid oxide cells. Barrier layers produced by different methods were studied in this work. As a reference, a cell with no barrier layer was measured. The application of the powder-processed barrier layers, considerably increases the performance....

Iron doped strontium titanates (SrTi1-xFexO3-δ) are an interesting mixed ionic-electronic conductor model used to study basic oxygen reduction/oxidation reactions. In this work, we performed an impedance spectroscopy study on symmetrical porous SrTi0.30Fe0.70O3-δ (STF70) electrodes on a ceriabased electrolyte. The sample was measured in varying oxygen concentration: from 0.3% to 100% in 800 °C - 500 °C temperature range. Low polarisation...
seen 1122 times