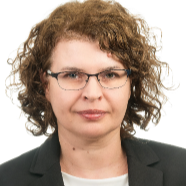 dr Aleksandra Kordalska
Adiunkt
Workplace

Budynek Wydziału Zarządzania i Ekonomii pokój 314

Phone

(58) 347 13 21
This article assesses the impact of selected determinants on both value-added exports and gross exports for seven CEE economies, based on thirteen manufacturing subsectors for the years 1995–2011. The results show a decrease in domestic value-added, especially in high-tech industries. The impact of the determinants, except for vertical specialization, is similar for exports in value-added and in gross terms. The results indicate...

The objective of this study is to test empirically the relationship between structural changes (changes in gross value added and employment) and economic growth. We used a panel Granger-causality analysis based on annual data for eight transition countries, covering the period 1995–2011. The main finding is that the causality relations analysed are heterogeneous processes and are identified more often...

The main objective of this paper is to find the determinants of the international competitiveness of the manufacturing sectors of the Czech economy, using the database of 13 manufacturing subsectors in 1995–2011, with the aid of ECM model. The authors research the question of how much foreign and domestic demand, the level of labour costs, the level of sector innovation intensity, the level of sector openness to foreign markets...
seen 393 times