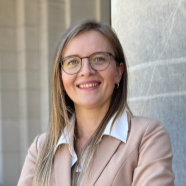 dr inż. Aleksandra Kuryłowicz-Cudowska
The paper describes a mathematical model of concrete curing taking into account kinetics of setting reactions. The numerical model is implemented in the author's program that was used to monitor thermal effects recorded in the concrete bottom plate of the extradosed bridge. Numerical approach was verified by experimental measurements and used for assessment of the current compressive strength due to degree of hydration of fresh...

The paper presents the references model for structural health monitoring system (SHM) of cable-stayed bridge recently constructed in Rzeszów over Wisłok River. The SHM system is design to provide on-line information on the structure state and facilitate its maintenance procedures. The main feature of the SHM system is permanent observation of the dynamic behavior of the bridge with focus on cable vibrations. The paper discusses...

The paper presents a theoretical formulation of concrete curing in order to predict temperature evolution and strength development. The model of heat flow is based on a well-known Fourier equation. The numerical solution is implemented by means of the Finite Difference Method. In order to verify the model, the in situ temperature measurements at the top plate of a road bridge were carried out. A high agreement between numerical...
Obtained scientific degrees/titles
Obtained science degree

dr inż. Civil engineering and transport

(Engineering and Technology)
seen 580 times