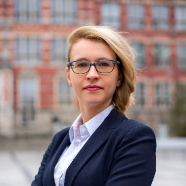 dr inż. Aleksandra Małachowska
Adiunkt
Workplace

Budynek A Wydziału Chemicznego pokój 32

Phone

(58) 347 26 37
The paper presents the preparation of new adsorbents based on silica gel (SiO2) impregnated with deep eutectic solvents (DESs) to increase benzene, toluene, ethylbenzene, and p-xylene (BTEX) adsorption efficiency from gas streams. The DESs were synthesized by means of choline chloride, tetrapropylammonium bromide, levulinic acid, lactic acid, and phenol. The physico-chemical properties of new sorbent materials, including surface...

Waste generated due to mining activity poses a serious issue due to the large amounts generated, even up to 65 billion tons per year, and is often associated with the risk posed by its storage and environmental management. This work aims to review waste management in the mining industry of metals ores, coal, oil and natural gas. It includes an analysis and discussion on the possibilities for reuse of certain types of wastes generated...

This paper investigates chemical functional groups of the two extracted bitumen fractions in shales of the Jurassic to early Cretaceous Vaca Muerta Formation of the Neuquén Basin in Argentina, South America. The results indicate that Bitumen I is strongly aliphatic and appears to be genetically related to fluorescent amorphous organic matter. In contrast, Bitumen II consists of highly condensed, aromatic hydrocarbons, and has some...
seen 2192 times