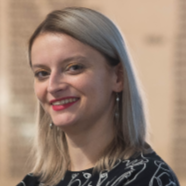 dr hab. inż. Aleksandra Dorota Mielewczyk-Gryń
Professor
Workplace

Budynek Centrum Nanotechnologii pokój 4/19

Phone

(58) 348 66 19
Rare earth elements (RE) are incorporated into a large variety of complex oxide phases to provide tailored mechanical, electrical, optical, and magnetic properties. Thermodynamics control phase stability, materials compatibility in use, corrosion, and transformation. This review presents, in one compilation, the thermodynamic properties of a large number of such materials and discusses systematic trends in energetics and the factors...

The paper presents recent advances in Poland in the field of high temperature fuel cells. The achievements in the materials development, manufacturing of advanced cells, new fabrication techniques, modified electrodes and electrolytes and applications are presented. The work of the Polish teams active in the field of solid oxide fuel cells (SOFC) and molten carbonate fuel cell (MCFC) is presented and discussed. The review is oriented...

Here, for the first time, we present data on proton conductivity of high-entropy, single-phase perovskites. The BaZr0.2Sn0.2Ti0.2Hf0.2Ce0.2O3−δ, BaZr0.2Sn0.2Ti0.2Hf0.2Y0.2O3−δ, BaZr1/7Sn1/7Ti1/7Hf1/7Ce1/7Nb1/7Y1/7O3−δ, and BaZr0.15Sn0.15Ti0.15Hf0.15Ce0.15Nb0.15Y0.10O3−δ single-phase perovskites were synthesized. Before electrical measurements, materials were characterized using X-ray diffraction (XRD), scanning electron microscopy...
Obtained scientific degrees/titles
Obtained science degree

dr hab. inż. Materials engineering

(Engineering and Technology)

Uniwersytet Śląski w Katowicach

Obtained science degree

dr inż. Technical Physics

(Physical sciences)
seen 4111 times