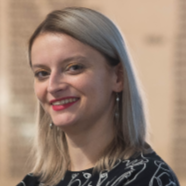 dr hab. inż. Aleksandra Dorota Mielewczyk-Gryń
Professor
Workplace

Budynek Centrum Nanotechnologii pokój 4/19

Phone

(58) 348 66 19
The paper presents recent advances in Poland in the field of high temperature fuel cells. The achievements in the materials development, manufacturing of advanced cells, new fabrication techniques, modified electrodes and electrolytes and applications are presented. The work of the Polish teams active in the field of solid oxide fuel cells (SOFC) and molten carbonate fuel cell (MCFC) is presented and discussed. The review is oriented...

Rare earth elements (RE) are incorporated into a large variety of complex oxide phases to provide tailored mechanical, electrical, optical, and magnetic properties. Thermodynamics control phase stability, materials compatibility in use, corrosion, and transformation. This review presents, in one compilation, the thermodynamic properties of a large number of such materials and discusses systematic trends in energetics and the factors...

LaNb1−xMxO4 oxides with pentavalent elements of different ionic sizes (M=Sb, Ta and V, x=0.05–0.3) were synthesized by the solid state reaction method. Special interest was devoted to the antimony substituted lanthanum niobate which is a new material in this group. Rietveld analysis of the X-ray diffraction patterns was used to determine the influence of the material composition on unit cell parameters. On the basis of dilatometric...
seen 2094 times