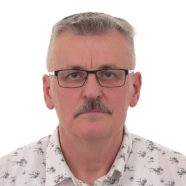 dr hab. inż. Andrzej Miszczyk
The influence of nanosized particles on electrochemical action of standard zinc-rich paints by means of SEM as well as potential and impedance measurements has been investigated. The motivation for doing this was to obtain additional electrical connection between the spherical microparticles themselves and zinc particles and steel substrate. Overall zinc content was at the level of 92% by weight. Samples with different concentration...

Zastosowano elektrochemiczną spektroskopię impedancyjną do wyznaczania międzywarstwowej adhezji w powłokach organicznych. Zbadano różne zestawy powłok do ochrony samochodów. Zastosowano dwie elektrody wykonane z prądoprzewodzącego tuszu umieszczone pomiędzy warstwami powłokowymi. Stwierdzono, że utrata adhezji międzywarstwowej następuje podobnie jak zmiany energii aktywacji przewodnictwa jonowego w obszarze międzywarstwowym. Uzyskane...

The task of quality checking of the coil-coated system was undertaken using impedance spectroscopy. In order to properly characterize the system the new impedance spectrum was calculated as an averaged result of 12 experimental spectra obtained from 12 different places of the sample at the same time of immersion in 3% of NaCl. The experimental spectra were recorded for a 24-h period at 1 h intervals between starting points of each...
Obtained scientific degrees/titles
Obtained science degree

dr hab. inż. Chemical technology

(Technology)
seen 510 times