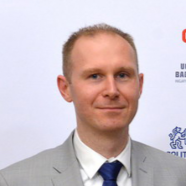 Scientific and Technical Specialist
This paper presents the application of artificial neural networks and decision trees for the prediction of odor properties of post-fermentation sludge from a biological-mechanical wastewater treatment plant. The input parameters were concentrations of popular compounds present in the sludge, such as toluene, p-xylene, and p-cresol, and process parameters including the concentration of volatile fatty acids, pH, and alkalinity in...

In the era of a ubiquitous Internet of Things and fast artificial intelligence advance, especially thanks to deep learning networks and hardware acceleration, we face rapid growth of highly decentralized and intelligent solutions that offer functionality of data processing closer to the end user. Internet of Things usually produces a huge amount of data that to be effectively analyzed, especially with neural networks, demands high...

In this paper, we propose a privacy-preserving i-voting system based on the public Stellar Blockchain network. We argue that the proposed system satisfies all requirements stated for a robust i-voting system including transparency, verifiability, and voter anonymity. The practical architecture of the system abstracts a voter from blockchain technology used underneath. To keep user privacy, we propose a privacy-first protocol that...
Obtained scientific degrees/titles
Obtained science degree

dr inż. Information science

(Technology)
seen 16957 times