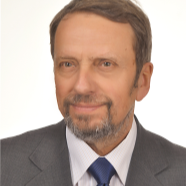 prof. dr hab. inż. Andrzej Zieliński
Professor
Workplace

Budynek Wydziału Mechanicznego pokój 204

Phone

(58) 347 29 64
The zirconium alloys used in nuclear industry include mainly ZreSn and ZreNb alloys ofdifferent chemical composition, microstructure and susceptibility to both hydrogendegradation and oxidation. The hypothetic nuclear accidents can create a real danger tothe Zr alloys and stability of parts made of these alloys, and especially such as loss ofcoolant accident (LOCA) and reactivity initiated accidents (RIA). The hydrogen degradationcan...

Although titaniumand its alloys are widely used as implant material for orthopedic and dental applications they show only limited corrosion stability and osseointegration in different cases. The aim of the presented research was to develop and characterize a novel surface modification system from a thin diamond base layer and a hydroxyapatite (HAp) top coating deposited on the alloy Ti6Al4V widely used for implants in contact with bone....

Titanium and its alloys are the biomaterials most frequently used in medical engineering, especially as parts of orthopedic and dental implants. The surfaces of titanium and its alloys are usually modified to improve their biocompatibility and bioactivity, for example, in connection with the deposition of hydroxyapatite coatings. The objective of the present research was to elaborate the technology of electrophoretic deposition...
seen 2089 times