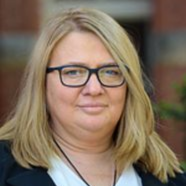 dr hab. inż. Anna Brillowska-Dąbrowska
Head of Department
Workplace

Budynek B Wydziału Chemicznego pokój 215 A

Phone

(58) 347 23 02
Candida glabrata is currently ranked as the second most frequently isolated aetiological agent of human fungal infections, next only to Candida albicans. In comparison with C. albicans, C. glabrata shows lower susceptibility to azoles, the most common agents used in treatment of fungal infections. Interestingly, the mechanisms of resistance to azole agents in C. albicans have been much better investigated than those in C. glabrata....

Aspergillus fumigatus is one of the most prevalent airborne fungal pathogens causing infections worldwide. Most A. fumigatus strains are susceptible to azoles, which are administered as the first line therapeutics. However, during last decade the acquired resistance to triazoles by these species has been described. There is a number of publications concerning the examination of clinical A. fumigatus strains from different countries,...

We studied the presence of triazole resistance of 121 Aspergillus fumigatus clinical isolates collected in two Polish cities, Warsaw and Wrocław, to determine if resistance is emerging in our country. We identified five itraconazole resistant isolates (4.13%) carrying the TR34/L98H alteration in Cyp51A gene, four of which were cross-resistant to posaconazole and one to voriconazole. One isolate was intermediate susceptible to itraconazole...
Obtained scientific degrees/titles
Obtained science degree

dr hab. inż. Microbiology

(Biological sciences)

Uniwersytet Łódzki

Obtained science degree

dr inż. Chemical technology

(Chemical sciences)
seen 494 times