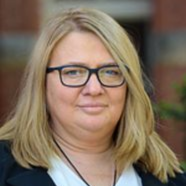 dr hab. inż. Anna Brillowska-Dąbrowska
Trzy rekombinantowe fragmenty białka antygenowego MIC1 Toxoplasma gondii (r-MIC1ex2, r-MIC1ex34 i r-MIC1) zostały wyprodukowane jako białka fuzyjne (zawierające dwie domeny oligohistydynowe na N- i C-końcu) w komórkach bakteryjnych Escherichia coli. Homogenne preparaty antygenów rekombinantowych otrzymane z zastosowaniem jednoetapowego oczyszczania metodą chromatografii metalopowinowactwa, wykorzystano następnie do immunoidentyfikacji...

In a haematology ward, Candida parapsilosis was found in blood cultures from 4 patients within a month. As C. parapsilosis is known to have a restricted genetic diversity, a combined methodological approach was adopted to establish a possible epidemiological relationship among the isolates (n = 9). Multilocus sequence typing and random amplified polymorphic DNA analysis suggested a clonal origin of the isolates. The clonal origin...

Celem badań było opracowanie prostego modelu zwierzęcego (świnki morskie) odpowiedniego do sprawdzania systemów diagnostycznych oraz terapii infekcji dermatofitów. Następujące zmienne były analizowane: przygotowanie skóry przez golenie versus użycie taśmy, testowy szczep Microsporum canis czy Trichophyton mentagrophytes jako czynnik etiologiczny, sposób inokulacji. Przebieg infekcji był oceniany poprzez ocenę zaczerwienienia i...
Obtained scientific degrees/titles
Obtained science degree

dr hab. inż. Microbiology

(Biological sciences)

Uniwersytet Łódzki

Obtained science degree

dr inż. Chemical technology

(Chemical sciences)
seen 1401 times