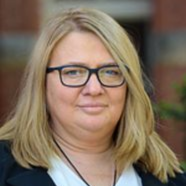 dr hab. inż. Anna Brillowska-Dąbrowska
Head of Department
Workplace

Budynek B Wydziału Chemicznego pokój 215 A

Phone

(58) 347 23 02
Trzy rekombinantowe fragmenty białka antygenowego MIC1 Toxoplasma gondii (r-MIC1ex2, r-MIC1ex34 i r-MIC1) zostały wyprodukowane jako białka fuzyjne (zawierające dwie domeny oligohistydynowe na N- i C-końcu) w komórkach bakteryjnych Escherichia coli. Homogenne preparaty antygenów rekombinantowych otrzymane z zastosowaniem jednoetapowego oczyszczania metodą chromatografii metalopowinowactwa, wykorzystano następnie do immunoidentyfikacji...

Celem badań było opracowanie prostego modelu zwierzęcego (świnki morskie) odpowiedniego do sprawdzania systemów diagnostycznych oraz terapii infekcji dermatofitów. Następujące zmienne były analizowane: przygotowanie skóry przez golenie versus użycie taśmy, testowy szczep Microsporum canis czy Trichophyton mentagrophytes jako czynnik etiologiczny, sposób inokulacji. Przebieg infekcji był oceniany poprzez ocenę zaczerwienienia i...

We investigated the relationship between colonizing and invasive isolates from patients with candidaemia. Molecular typing was performed using random amplification of polymorphic DNA (RAPD) and multilocus sequence typing (MLST). We found MLST to be sufficient for typing Candida isolates, and that surveillance cultures are helpful in predicting concomitant invasive isolates, but not necessarily the pathogen involved in subsequent...
Obtained scientific degrees/titles
Obtained science degree

dr hab. inż. Microbiology

(Biological sciences)

Uniwersytet Łódzki

Obtained science degree

dr inż. Chemical technology

(Chemical sciences)
seen 738 times