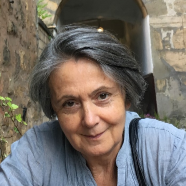 prof. dr hab. Anna Lisowska-Oleksiak
Professor
Workplace

Budynek B Wydziału Chemicznego pokój 408

Phone

(58) 347 25 44
The paper discusses the synthesis and performance of iodine doped titania nanotube arrays exhibited under irradiation. The doping procedure was performed as an additional, electrochemical process carried out after formation of nanotube arrays via anodization of Ti substrate. The optical and structural properties were characterized using Raman, UV-vis, photoluminescence and X-ray photoelectron spectroscopy. The surface morphology...

Thin films containing BiVO4 and MnO2 deposited on FTO and modified by Au nanoparticles were studied towards their photoelectrochemical and photocatalytical activities in an aqueous electrolyte. Electrodes were prepared by the pulsed laser deposition (PLD) method. The surfactant-free ablation process was used for preparation of the gold nanoparticles (GNP) water suspension. Obtained layers of varied thicknesses (27–115 nm) were...

Nitrogen doped titania nanotubes were successfully sensitized by electrochemical method, i.e. as-anodized titania was immersed in different amine (diethyleneamine-DETA, triethyleneamine-TEA, ethylenediamine-EDA) and urea (U) solution and a constant potential was applied. The highly ordered morphology of fabricated N-TiO2 was investigated by using scanning electron microscopy. Spectroscopic techniques, i.e. UV-Vis spectroscopy,...
Obtained scientific degrees/titles
Obtained science title

prof. dr hab. Chemical technology

(Technology)
seen 2231 times