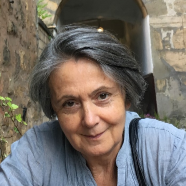 prof. dr hab. Anna Lisowska-Oleksiak
Profesor
Workplace

Budynek B Wydziału Chemicznego pokój 408

Phone

(58) 347 25 44
Praca dotyczy materiału hybrydowego złożonego z polimeru elektroaktywnego poli(3,4-etylenodioksytiofenu) i Błękitu Pruskiego. Wykonano pomiary spektroskopowe z użyciem technik: spektrometrii fotoelektronów wzbudzonych promieniami X (X-ray Photoelectron Spectroscopy (XPS)), spektroskopii absorpcyjnej struktury przykrawędziowej (X-ray Absorption Near Edge Structure (XANES)) oraz spektroskopii mikro-Ramana. Przeprowadzone badania...

Thin films containing BiVO4 and MnO2 deposited on FTO and modified by Au nanoparticles were studied towards their photoelectrochemical and photocatalytical activities in an aqueous electrolyte. Electrodes were prepared by the pulsed laser deposition (PLD) method. The surfactant-free ablation process was used for preparation of the gold nanoparticles (GNP) water suspension. Obtained layers of varied thicknesses (27–115 nm) were...

Doping of TiO2 nanotube arrays with boron was realized via electrochemical treatment of as-anodized titania immersed in electrolyte containing boric acid. The photoactivity of doped and pure titania was examined by means of photoelectrochemical and photocatalytic response under UV-vis irradiation. The results showed that photocurrent density of B-TNTs is remarkably higher (7.5 times) than density of pure TiO2 nanotube arrays. Furthermore,...
Obtained scientific degrees/titles
Obtained science title

prof. dr hab. Chemical technology

(Technology)
seen 945 times