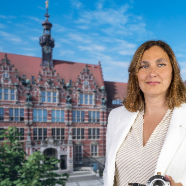 dr hab. inż. Anna Zielińska-Jurek
The Au-TiO2 and Ag/Au-TiO2 nanoparticles have been prepared using a water-in-oil microemulsion system of water/AOT/cyclohexane and water/Triton X-100/cyclohexane. The obtained photocatalysts were subsequently characterized by a BET method, DRS spectroscopy, X-ray photoelectron emission spectroscopy (XPS), scanning transmission electron microscopy (STEM) and X-ray powder diffraction analysis (XRD). For gold-doped titanium (IV) oxide...

Bimetallic nanoparticles, composed of two different metal elements, can exhibit peculiar electronic, optical, and catalytic or photocatalytic properties that are absent in the corresponding monometallic nanoparticles. We show the effect of calcination temperature (from 350 to 700°C) on the structure and the photocatalytic properties of Au/Pd-modified TiO2. The composition of the bimetallic Au/Pd nanoparticles in relation to their...

Ag-Pt-modified TiO2 nanocomposites were synthesized using the sol–gel method. Bimetallic modified TiO2 nanoparticles exhibited improved photocatalytic activity under visible-light irradiation, better than monometallic Ag/TiO2 and Pt/TiO2 nanoparticles (NPs). All modified powders showed localized surface plasmon resonance (LSPR) in visible region. The photocatalysts' characteristics by X-ray diffractometry (XRD), scanning transmission...
Obtained scientific degrees/titles
Obtained science degree

dr hab. inż. Chemical technology

(Technology)

Obtained science degree

dr inż. Chemical technology

(Technology)
seen 3639 times