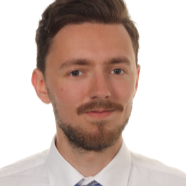 mgr inż. Artur Gańcza
The paper presents a new, two-stage approach to identification of linear time-varying stochastic systems, based on the concepts of preestimation and postfiltering. The proposed preestimated parameter trajectories are unbiased but have large variability. Hence, to obtain reliable estimates of system parameters, the preestimated trajectories must be further filtered (postfiltered). It is shown how one can design and optimize such...

Savitzky–Golay (SG) filtering is a classical signal smoothing technique based on the local least squares approximation of the analyzed signal by a linear combination of known functions of time (originally — powers of time, which corresponds to polynomial approximation). It is shown that the regularized version of the SG algorithm can be successfully applied to identification of time-varying finite impulse response (FIR) systems....

The problem of identification of nonstationary stochastic processes (systems or signals) is considered and a new class of identification algorithms, combining the basis functions approach with local estimation technique, is described. Unlike the classical basis function estimation schemes, the proposed regularized local basis function estimators are not used to obtain interval approximations of the parameter trajectory, but provide...
seen 17343 times