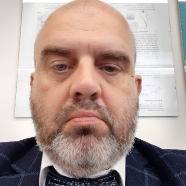 dr hab. inż. Artur Zieliński
Professor
Workplace

Budynek C Wydziału Chemicznego pokój 311

Phone

(58) 347 14 40
The paper presents a new approach to organic coating condition evaluation at micrometer scale using localized impedance measurements. It is based on atomic force microscopy (AFM) in contact mode. Impedance is measured between conductive AFM tip and metal substrate covered with organic coating. A single-frequency voltage perturbation signal is applied between the electrodes and current response signal is registered. As the tip is...

Proces korozyjny może być badany za pomocą techniki szumu elektrochemicznego. Szum obserwowany jest jako fluktuacje prądowe i napięciowe w trójelektrodowym układzie pomiarowym. W celu stwierdzenia obecności korozji wżerowej wykonana została detekcja charakterystycznych sygnałów. Opracowany został algorytm oparty na analizie lokalnych zmian w spektrogramie rejestru prądowego. Spektrogram uzyskany został za pomocą krótkoczasowej...

Szybkość korozji jest określona przez rezystancję polaryzacyjną warstwy metal-elektrolit. Jej wartość może być wyznaczona za pomocą pomiarów szumów elektrochemicznych. Przedstawiono szczegółowo algorytm wyznaczania wartości rezystancji polaryzacyjnej na podstawie rejestrowanych sygnałów losowych dla przykładowych wyników badań eksperymentalnych. Oszacowano dokładność wyznaczanej wartości.
seen 545 times