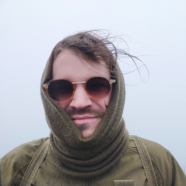 mgr inż. Bartosz Borzeszkowski
This work presents a Finite Element Model Updating inverse methodology for reconstructing heterogeneous materialdistributions based on an efficient isogeometric shell formulation. It uses nonlinear hyperelastic material models suitable fordescribing incompressible material behavior as well as initially curved shells. The material distribution is discretized by bilinearelements such that the nodal values...

In this paper a nonlinear isogeometric Kirchhoff-Love shell model of the human abdominal wall is proposed. Its geometry is based on in vivo measurements obtained from a polygon mesh that is transformed into a NURBS surface, and then used directly for the finite element analysis. The passive response of the abdominal wall model under uniform pressure is considered. A hyperelastic membrane model based on the Gasser-Ogden-Holzapfel...

The human abdominal wall is an object of interest to the research community in the context of ventral hernia repair. Computer models require a priori knowledge of constitutive parameters in order to establish its mechanical response. In this work, the Finite Element Model Updating (FEMU) method is used to identify an heterogeneous shear modulus distribution for a human abdominal wall model, which is based on nonlinear isogeometric...
seen 454 times