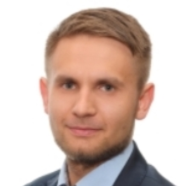 mgr inż. Bartosz Szulczyński
Independent Technical Clerk
Workplace

Budynek D Inżynierii Chemicznej pokój 37

Phone

(58) 347 27 52
The paper presents principle of operation and design of the most popular chemical sensors for measurement of volatile organic compounds (VOCs) in outdoor and indoor air. It describes the sensors for evaluation of explosion risk including pellistors and IR-absorption sensors as well as the sensors for detection of toxic compounds such as electrochemical (amperometric), photoionization and semiconductor with solid electrolyte ones....

The paper presents practical application of an electronic nose technique for fast and efficient discrimination between authentic and fake perfume samples. Two self-built electronic nose prototypes equipped with a set of semiconductor sensors were employed for that purpose. Additionally 10 volunteers took part in sensory analysis. The following perfumes and their fake counterparts were analysed: Dior – Fahrenheit, Eisenberg – J'ose,...

The paper presents an application of an electronic nose prototype comprised of six TGS-type sensors and one PID-type sensor to identify odour interaction phenomena in odorous three-component mixtures. The investigation encompassed eight odorous mixtures—toluene-acetone-triethylamine and formaldehyde-butyric acid-pinene — characterized by different odour intensity and hedonic tone. A principal component regression (PCR) calibration...
seen 464 times