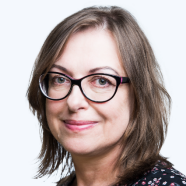 dr hab. Beata Basińska
Professor
Workplace

Gmach B pokój 705

Phone

(58) 347 19 92
Objectives: The aim of this study was to verify psychometric properties of the Polish version of the Job-related Affective Well-being Scale (JAWS). Specifically, theoretical 4-factor structure (based on the dimensions of pleasure and arousal) and reliability of the original – 20-item JAWS (van Katwyk et al., 2000) and the shortened – 12-item (Schaufeli and Van Rhenen, 2006) versions were tested. Material and Methods: Two independent...

Purpose – Since prior research into the effects of multiculturalism on job satisfaction in multinational corporations (MNCs) is rather scant and inconclusive, the authors attempt to review the literature and explain why these results are inconsistent as well as propose a new model aimed at responding to these irregularities. Design/methodology/approach – In the narrative review of the prior research and the proposed model the...

Thriving at work is defined as the psychological state that links both a sense of vitality and learning. The vitality component of thriving may be seen as positive energy, while learning enhances a sense of competence and efficacy. Thriving sheds new light on individual psychological functioning and the experience of growth in the work context. Thriving at work promotes growth through playing an active role in interaction with...
Obtained scientific degrees/titles
Obtained science degree

dr hab. Psychology

(Social studies)

SWPS Uniwersytet Humanistycznospołeczny, Wydział Psychologii w Warszawie

Obtained science degree

dr n. hum. Psychology

(Social studies)

Uniwersytet Gdański
seen 438 times