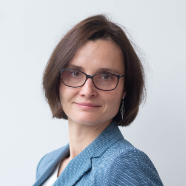 dr hab. inż. Beata Bochentyn
Professor
Workplace

Budynek Centrum Nanotechnologii pokój 4/11

Phone

(58) 348 66 13
Wytworzono próbki na bazie tytanianu strontu domieszkowanego niobem i przebadano wpływ nasączania niklem na właściwości tych materiałów.

The Ge0.77Ag0.1Sb0.13Te1alloy was fabricated by a novel two step route. For that purpose firstly the oxide reagents were melted at high temperature and quenched into pellets. After that pellets were milled to the powder and then reduced in hydrogen at various temperatures and for various periods of time. Energy dispersive X-ray analysis indicated the possibility of successful fabrication of stoichiometric thermoelectric materials...

Composites of Nb-doped strontium titanate mixed with yttria-stabilized zirconia or cerium oxide in 50:50, 70:30 and 85:15 weight ratios were evaluated as possible anode/electrolyte interface materials for solid oxide fuel cells in terms of chemical compatibility, electrical conductivity and mechanical properties. It has been shown that composite samples prepared by typical powder-mixing methods remain single-phase up to 1400°C....
seen 702 times