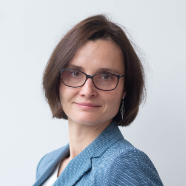 Wytworzono próbki na bazie tytanianu strontu domieszkowanego niobem i przebadano wpływ nasączania niklem na właściwości tych materiałów.

Composites of Nb-doped strontium titanate mixed with yttria-stabilized zirconia or cerium oxide in 50:50, 70:30 and 85:15 weight ratios were evaluated as possible anode/electrolyte interface materials for solid oxide fuel cells in terms of chemical compatibility, electrical conductivity and mechanical properties. It has been shown that composite samples prepared by typical powder-mixing methods remain single-phase up to 1400°C....

In this paper solid oxide fuel cells operating with dry synthetic biogas have been examined. In order to increase their stability the layers of CuO-CeO2, Cu1.3Mn1.7O4 and Y0.08Sr0.92Ti0.8Fe0.2O3 -δ have been deposited on the Ni-YSZ anode site. These layers should catalyze the internal biogas reforming and prevent the carbon deposition on the anode site. It has been found that CuO-CeO2 and Cu1.3Mn1.7O4 catalysts led to an increase...
seen 461 times