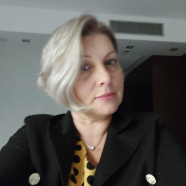 Professor
Workplace

Budynek B Wydziału Chemicznego pokój 218

Phone

(58) 347 23 83
Zaproponowano metodę genotypowania bakterii rodzaju Acinetobacter, opartą o analizę sekwencji genów recA, amplifikację fragmentów genu recA i analizę profili fragmentów restrykcyjnych po cięciu produktów reakcji PCR enzymami restrykcyjnymi (recA PCR/RFLP). Profile RFLP otrzymane za pomocą enzymu Tsp509I są użyteczne w identyfikacji poszczególnych gatunków bakterii rodzaju Acinetobacter. Na podstawie analizy otrzymanych sekwencji...

W pracy pokazano użyteczność dwóch nowych metod do typowania molekularnego Staphylococcus aureus, ADSRRS-fingerprinting (Amplification of DNA fragments Surrounding Rare Restriction Sites) i PCR MP (PCR melting profile). Przebadano 37 szczepów Staphylococcus aureus izolowanych od pacjentów z czyracznością. Jako metodę referencyjną zastosowano REA-PFGE. Okazało się, że izolaty Staphylococcus aureus z nosa od niektórych pacjentów...

The aim of the study was to investigate whether there are unique pathotypes of Escherichia coli capable of transmission from the gastrointestinal tract to the vascular bed. The study included E. coli strains isolated from clinical materials collected from 115 patients suffering from haematologic malignancies diagnosed with bacteraemia. The genotyping techniques established that 89 E. coli isolates from the blood had the same genotype...
Obtained scientific degrees/titles
Obtained science degree

dr hab. Biology

(Biological sciences)

Uniwersytet Szczeciński, Wydział Nauk Przyrodniczych

Obtained science degree

dr Biology

(Biological sciences)

Uniwersytet Gdański, Wydział Biologii, Geografii i Oceanologii
seen 889 times