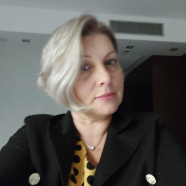 Associate professor
Workplace

Budynek B Wydziału Chemicznego pokój 218

Phone

(58) 347 23 83
Search for new and efficient antibiotic is crucial because of microbial drug resistance and problems with side effects of the administered medication. In this study, we evaluate the in vitro microbiological activity of muramyl dipeptide derivatives, retro-tuftsin derivatives (i.e., tuftsin with reversed amino acid sequences), and combinations of retro-tuftsin derivatives with substituted anthraquinones. The potency of the investigated...

In recent years, there has been an observed increase in infections caused by carbapenem-resistant Klebsiella pneumonia (Kp) strains. The aim of this study was the phenotypic and genotypic analysis of eight K. pneumoniae NDM (Kp NDM) isolates, recovered in Poland during the years 2016 and 2018 from seven patients with urinary tract infections (UTIs), asymptomatic bacteriuria (ABU), or colonization of the gut. PCR melting profile...

Enterococcus spp. are Gram-positive, facultative, anaerobic cocci, which are found in the intestinal flora and, less frequently, in the vagina or mouth. Enterococcus faecalis and Enterococcus faecium are the most common species found in humans. As commensals, enterococci colonize the digestive system and participate in the modulation of the immune system in humans and animals. For many years reference enterococcal strains have...
Obtained scientific degrees/titles
Obtained science degree

dr hab. Biology

(Biological sciences)

Uniwersytet Szczeciński, Wydział Nauk Przyrodniczych

Obtained science degree

dr Biology

(Biological sciences)

Uniwersytet Gdański, Wydział Biologii, Geografii i Oceanologii
seen 2260 times