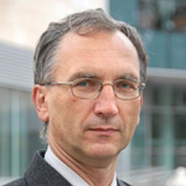 prof. dr hab. inż. Bogdan Wiszniewski
Profesor
Workplace

Gmach Elektroniki Telekomunikacji i Informatyki pokój 423

Phone

(58) 347 10 89
Head of Department
Workplace

Gmach Elektroniki Telekomunikacji i Informatyki pokój 423

Phone

(58) 347 10 89
Active digital documents are not only capable of performing various operations using their internal functionality and external services, accessible in the environment in which they operate, but can also migrate on their own over a network of mobile devices that provide dynamically changing execution contexts. They may imply conflicts between preferences of the active document and the device the former wishes to execute on. In the...

Przedstawiono propozycję formalizacji opisu procesu generacji, wykonania ioceny testów zgodności dla języków i bibliotek programowania równoległego, wzakresie zgodności funkcjonalnej i wydajnościowej. Przykłady ilustrujące proponowany formalizm wykorzystują platformę programowania Athapascan.

Jednym z zadań aplikacyjnych ogólnopolskiego projektu CLUSTERIX było opracowanie i wdrożenie metody interaktywnej wizualizacji terenu rzeczywistego z danych przestrzennych systemów GIS. Przedstawione wyniki osiągnięte w tym zadaniu wskazują na duży potencjał wykorzystania opracowanego modelu wizualizacji 3D dla potrzeb systemów zarządzania kryzysowego.
Obtained scientific degrees/titles
Obtained science title

prof. Informatics, Computer Science

(Mathematics)

Obtained science degree

dr hab. inż. Informatics, Computer Science

(Mathematics)

Obtained science degree

dr inż. Informatics, Computer Science

(Mathematics)
seen 1003 times