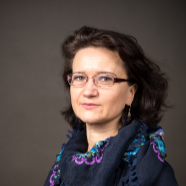 Profesor uczelni ze stop. nauk. dr
Workplace

Gmach Główny pokój 114

Phone

(58) 347 28 86
Vice-Dean for Education
Workplace

Gmach Główny pokój 103 B

Phone

(58) 347 13 10
Electron impact ionization and ionic fragmentation of tetrahydrofuran molecules in the gas phase were studied in the energy range from ionization threshold up to 150 eV using the technique of mass spectrometry. The cation mass spectra, ionization and ionic fragmentation efficiencies were measured over this energy range. Well-resolved mass peaks were detected in the mass range 10-72 amu and assigned to corresponding ionic molecular...

The electron impact mass spectroscopy and the total ion collection measurements were used to investigate the ionization and ionic fragmentation of the pyrimidine, C4H4N2, molecules in the gasphase. The cation mass spectra were measured in the 10−85 amu range and the observed mass peaks assigned to corresponding ionic fragments. The most abundant cation in the mass spectra is the parent cation, C4H4N+2, at 80 amu. The appearance...

Przeprowadzono badania hipocykolidalnego monochromatora elektronów, wykorzystując komputerowy program optyki elektronowej CPO-3D. Obliczono i przeprowadzono analizę torów elektronów w wiązce o zadanym rozmyciu kątowym przechodzącej przez monochromator. Ustalono, że rozdzielczość energetyczna monochromatora jest wyższa niż odpowiadającego mu monochromatora trochoidalnego.
seen 701 times