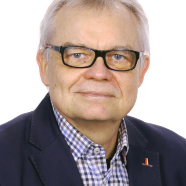 prof. dr hab. inż. Andrzej Stateczny
Business contact
Centrum Transferu Wiedzy i Technologii
Location

Al. Zwycięstwa 27, 80-219 Gdańsk

Phone

+48 58 348 62 62

E-mail
The paper presents design, structure and architecture of the Universal Autonomous Control and Management System (UACAMS) for multipurpose unmanned surface vessel. The system was designed, installed and implemented on the multipurpose platform - unmanned surface vessel named HydroDron. The platform is designed to execute hydrographic survey missions with multi-variant configuration of the survey system (payload? ) including multi-beam...

The article presents the watercraft recognition and identification system as an extension for the presently used visual water area monitoring systems, such as VTS (Vessel Traffic Service) or RIS (River Information Service). The watercraft identification systems (AIS - Automatic Identification Systems) which are presently used in both sea and inland navigation require purchase and installation of relatively expensive transceivers...

Hydrographic surveys in restricted areas are becoming increasingly important, but often impossible to carry out with conventional hydrographic vessels. Presumably in this case an employment of unmanned vehicles is the only reasonable solution. As restricted water areas include, among others: harbours, roadsteads, rivers or lakes. The HydroDron platform, due to its mobility, can operate in the above-mentioned areas. It is adapted...
seen 610 times