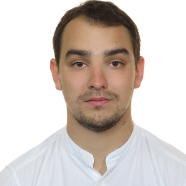 Damian Głowienka
Catalog Publications
2019
To improve the power conversion efficiency of solar cells based on organo–lead halide perovskites, a detailed understanding of the device physics is fundamental. Here, a computational analysis of excitons impact is reported for these types of photocell. Numerical calculations based on the model, which take into account electronic charge carriers (electrons and holes), excitons and ions, have been carried out. The role of excitons...
2018
We report on theoretical analysis of excitons annihilation on charge carriers in organic solar cells. Numerical calculations based on transient one-dimensional drift-diffusion model have been carried out. An impact of three quantities (an annihilation rate constant, an exciton mobility and a recombination reduction factor) on current density and concentrations of charge carriers and excitons is investigated. Finally, we discuss...

Organometal trihalide perovskites have recently gained extreme attention due to their high solar energy conversion in photovoltaic cells. Here, we investigate the contribution of iodide ions to a total conductivity of the mixed lead halide perovskite CH3NH3PbI3−xClx with a use of the modified DC Hebb–Wagner polarization method. It has been identified that an ionic conductivity dominates in tetragonal phase which is associated with room...
2017
The role of the annihilation of excitons on charge carriers has been theoretically investigated in organic semiconductors. We have developed the numerical drift-diffusion model by incorporation terms which describe the annihilation process. The transient photocurrent has been calculated for different injection barrier heights, exciton mobilities, and annihilation rate constants. We have demonstrated that the annihilation has a...
seen 137 times