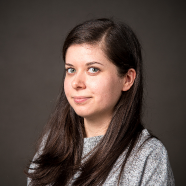 dr inż. Izabela Koss-Mikołajczyk
Business contact
Centrum Transferu Wiedzy i Technologii
Location

Al. Zwycięstwa 27, 80-219 Gdańsk

Phone

+48 58 348 62 62

E-mail
The study verifies the possibility of application of juices from selected fruits characterized by the high antioxidant potential as natural acidity regulators with improved nutritional properties. The tested non-typical fruits included mirabelle plum, sea buckthorn and blue-berried honeysuckle. Beetroot juice whose pH is about 6.0 served as a model food product. Potentiometric titration was used to compare the efficacy of tested...

The relationship between the content of bioactive compounds and mutagenic activity of elderberry fruit at different stages of ripeness was investigated. Signifi cant differences in the antioxidant profi les (TLC, HPLC with post-column derivatization) and antioxidant activity (ABTS, DPPH, and FC tests) were observed for studied elderberry extracts. The more ripen the fruit at the time of harvest were, the higher the content of...

Betalains are a group of plant originated pigments with chemopreventive potential. The aim of this study was to relate the composition of betalains and chosen biological activities (antioxidant, cytotoxic, anti-genotoxic and influence on enzymatic activities) for extracts from differently pigmented varieties of prickly pear (yellow, orange and red) and beetroot (white and red). The assumption was that phytocomplexes of tested varieties...
Obtained scientific degrees/titles
Obtained science degree

dr inż. Chemical sciences

(Natural sciences)
seen 303 times