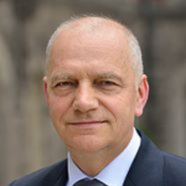 prof. dr hab. inż. Janusz Nieznański
Business contact
Centrum Transferu Wiedzy i Technologii
Location

Al. Zwycięstwa 27, 80-219 Gdańsk

Phone

+48 58 348 62 62

E-mail
Professor
Workplace

Budynek Wydziału Elektrotechniki i Automatyki - Laboratorium LINTE^2

Phone

(58) 347 16 75

E-mail
Prorektor ds. umiędzynarodowienia i innowacji
Przedstawiono nową, kompleksową metodę kompensacji zniekształceń napięcia wyjściowego falownika z modulacją szerokości impulsów. Proponowana metoda umożliwia automatyczne dopasowanie parametrów charakterystyki kompensacyjnej do aktualnej konfiguracji falownika i obciążenia, np. po zmianie przewodu łączącego falownik z obciążeniem. Adaptacja do nowych warunków polega na dostrajaniu wartości parametrów zależności opisującej napięcie...

Przedstawiono nową metodę detekcji i lokalizacji uszkodzeń polegających na braku przewodzenia tranzystorów w falownikach napięcia zasilających silniki indukcyjne. Metoda jest rozszerzeniem, opracowanej wcześniej, metody wykorzystującej znormalizowane składowe stałe prądów obciążenia. Znormalizowane wartości średnie prądów powiązano z dodatkowymi wskaźnikami diagnostycznymi, które zawierają informacje o czasie trwania nieprzewodzenia...

A novel method is presented for the detection andisolation of open-transistor faults in voltage-source invertersfeeding low-power AC motors. The method is based onmonitoring two diagnostic signals, one indicating sustained nearzerovalues of output current and thus permitting fault detection,the other permitting the isolation of the particular transistorwhich went faulty. The latter signal is the ratio of the averagephase current...
seen 1119 times