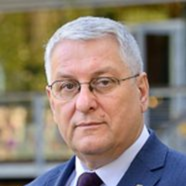 prof. dr hab. inż. Jerzy Wtorek
Employment
Research fields
Business contact
Centrum Transferu Wiedzy i Technologii
Location

Al. Zwycięstwa 27, 80-219 Gdańsk

Phone

+48 58 348 62 62

E-mail
Dean
Workplace

Budynek B WETI pokój 151

Phone

(58) 348 62 84
W pracy przedstawiono koncepcję i wstępne wyniki układu pozwalającego na monitorowanie stanu i aktywności osoby kąpiącej się. Zaprezentowany system pozwala na wykrycie osoby kąpiącej się w wannie, analizę jej aktywności oraz detekcję stanów potencjalnie niebezpiecznych. W artykule pokazano metodę pomiaru, dokonano analizy czułości, zaprezentowano prototyp układu pomiarowego i wyniki wstępnych pomiarów.

Using a novel method called near-infrared transillumination backscattering sounding (NIR-T/BSS) that allows for the non-invasive measurement of pial artery pulsation (cc-TQ) and subarachnoid width (sas-TQ) in humans, we assessed the influence of sympathetic activation on the cardiac and respiratory contribution to blood pressure (BP) cc-TQ oscillations in healthy subjects. The pial artery and subarachnoid width response to handgrip...

Diagnosis of obstructive sleep apnea usually involves polysomnographic analysis, which unfortunately requires overnight stay in a specialized clinic and is very uncomfortable for a patient. This paper describes the method and apparatus for recording a set of signals to detect sleep apnea. The device records the following signals simultaneously: three-channel ECG, respiratory functions, signals from the accelerometer, and snoring...
Obtained scientific degrees/titles
Obtained science title

prof. Biocybernetics and biomedical engineering

(Technology)

Obtained science degree

dr hab. inż. Electronics

(Technology)

Obtained science degree

dr inż. Electronics

(Technology)
seen 959 times