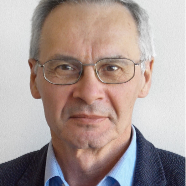 prof. dr hab. inż. Maciej Niedźwiecki
Business contact
Centrum Transferu Wiedzy i Technologii
Location

Al. Zwycięstwa 27, 80-219 Gdańsk

Phone

+48 58 348 62 62

E-mail
Profesor
Workplace

Gmach Elektroniki Telekomunikacji i Informatyki pokój 548

Phone

(58) 347 25 19
Przewodniczący Rady Dyscypliny Naukowej
Workplace

Budynek B WETI pokój 151

Phone

(58) 348 62 84
Przewodniczący Rady Dyscypliny Naukowej
Workplace

Gmach Elektrotechniki i Automatyki pokój 44

Phone

(58) 348 60 63
Head of Department
Workplace

Gmach Elektroniki Telekomunikacji i Informatyki pokój 544

Phone

(58) 347 25 32
Conveyor belt type checkweighers are complex mechanical systems consisting of a weighing sensor (strain gauge load cell, electrodynamically compensated load cell), packages (of different shapes, made of different materials) and a transport system (motors, gears, rollers). Disturbances generated by the vibrating parts of such a system are reflected in the signal power spectra in a form of strong spectral peaks, located usually in...

W artykule rozważany jest problem identyfikacji obiektów o parametrach zmieniających się w sposób pseudookresowy. Przedstawiono w nim algorytm oparty o metodę funkcji bazowych umożliwiający śledzenie takich obiektów oraz pokazano atrakcyjne z punktu widzenia złożoności obliczeń jego wersje zdekomponowane. Przydatność rozważanych algorytmów uzasadniono porównując je z rozwiązaniami innych autorów.

In this paper, we consider the problem of noncausal identification of nonstationary, linear stochastic systems, i.e., identification based on prerecorded input/output data. We show how several competing weighted (windowed) least squares parameter smoothers, differing in memory settings, can be combined together to yield a better and more reliable smoothing algorithm. The resulting parallel estimation scheme automatically adjusts...
seen 325 times