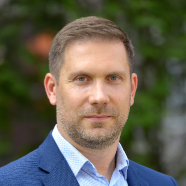 dr Michał Tomasz Tomczak
Business contact
Centrum Transferu Wiedzy i Technologii
Location

Al. Zwycięstwa 27, 80-219 Gdańsk

Phone

+48 58 348 62 62

E-mail
The application of a Bluetooth skin resistance sensor in assisting people with Autism Spectrum Disorders (ASD), in their day-to-day work, is presented in this paper. The design and construction of the device are discussed. The authors have considered the best placement of the sensor, on the body, to gain the most accurate readings of user stress levels, under various conditions. Trial tests were performed on a group of sixteen...

The aim of this article is to examine the opportunities for employees with autism spectrum disorders (ASDs), arising from digital technology (DT) development. The author discusses assistive technology (AT) as a mean of creating a better work environment, making the digitized workplace more friendly for people with ASD. A possible solution of communication problems is replacing the interpersonal communication between employees with...

Kompetencje przedsiębiorcze mają wpływ na podejmowanie decyzji o rozpoczęciu działalności gospodarczej a następnie na powodzenie takiego przedsięwzięcia. To jakie kompetencje uważane są w tym zakresie za kluczowe może wynikać m.in. z podejścia do procesu przedsiębiorczości. Podejście efektuacyjne opisuje przedsiębiorczość jako spontaniczny akt tworzenia, podczas gdy tradycyjne podejście kauzalne (przyczynowe) bardziej jako planowe...
seen 1124 times