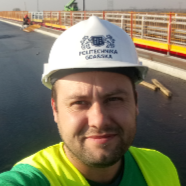 mgr inż. Cezary Szydłowski
Engineering and Technical Specialist
Workplace

Pawilon Jugosłowiański 2

Phone

(58) 347 26 55
Low-temperature cracking is one of the most common road pavement distress types in Poland. While bitumen performance can be evaluated in detail using bending beam rheometer (BBR) or dynamic shear rheometer (DSR) tests, none of the normalized test methods gives a comprehensive representation of low-temperature performance of the asphalt mixtures. This article presents the Bending Beam Creep test performed at temperatures from −20...

This publication presents evaluation of long-term behavior of mineral-cement-emulsion (MCE) mixtures. MCE mixtures are among the major products of cold recycling of old asphalt pavements. They are composed by binding of the old materials reclaimed from the pavement and new mineral aggregate using two different binding agents – cement and bituminous emulsion. While bituminous emulsion dissolutes and binds materials quite fast, it...

The paper presents low-temperature test results of asphalt mixtures designed with use of bitumen modified by crumb rubber and also SBS polymer. Laboratory tests were conducted on two types of asphalt mixtures for wearing course – stone matrix asphalt (SMA 8) and porous asphalt (PA 8). This paper presents results of the following laboratory tests at low temperatures: TSRST test, three point bending creep test, fracture toughness...
seen 697 times