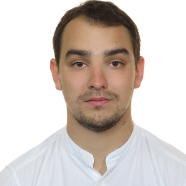 dr inż. Damian Głowienka
Organometal trihalide perovskites have recently gained extreme attention due to their high solar energy conversion in photovoltaic cells. Here, we investigate the contribution of iodide ions to a total conductivity of the mixed lead halide perovskite CH3NH3PbI3−xClx with a use of the modified DC Hebb–Wagner polarization method. It has been identified that an ionic conductivity dominates in tetragonal phase which is associated with room...

In order to achieve the highest performance of organometal trihalide perovskite solar cells, it is required to recognize the dominant mechanisms which play a key role in a perovskite material. In the following studies, we have focused on the interfacial recombination between the hole transporting layer (HTL) and the perovskite CH3NH3PbI3 in solar cell devices with p–i–n architecture. It has been shown that Cu:NiOx : used as HTL...

To improve the power conversion efficiency of solar cells based on organo–lead halide perovskites, a detailed understanding of the device physics is fundamental. Here, a computational analysis of excitons impact is reported for these types of photocell. Numerical calculations based on the model, which take into account electronic charge carriers (electrons and holes), excitons and ions, have been carried out. The role of excitons...
seen 466 times