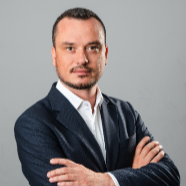 dr inż. Damian Rosiak
Six new 1-benzoyl-3-phenylthiourea and 1-benzoyl-3-(2-methylphenyl)thiourea complexes of mercury( II) were obtained in the reactions of the ligands with HgX2 in methanol (X = Cl, Br, I). Their structures, determined by single-crystal X-ray diffraction analysis, exhibit different stoichiometries and molecular organization. Coordination centers adopt more or less distorted tetrahedral geometry (five structures) or distorted trigonal...

One mononuclear and two binuclear Hg(II) complexes have been synthesized and characterized by X-ray diffraction, ATR IR and Hirshfeld surface analysis. Single-crystal X-ray diffraction showed that binuclear compounds are centrosymmetric and isostructural. All complexes form bifurcated intermolecular N–H···O hydrogen bonds that contribute to a formation of the centrosymmetric dimers. In binuclear complexes, sulfur atoms of thiourea...

1-Benzoylthioureas contain both carbonyl and thiocarbonyl functional groups and are of interest for their biological activity, metal coordination ability and involvement in hydrogen-bond formation. Two novel 1-benzoylthiourea derivatives, namely 1-benzoyl-3-(3,4-dimethoxyphenyl)thiourea, C₁₆H₁₆N₂O₃S, (I), and 1-benzoyl-3-(2-hydroxypropyl)thiourea, C₁₁H₁₄N₂O₂S, (II), have been synthesized and characterized. Compound (I) crystallizes...
seen 864 times