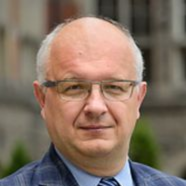 prof. dr hab. inż. Dariusz Mikielewicz
Professor
Workplace

Budynek Laboratorium Maszynowego pokój 111

Phone

(58) 347 22 54
Prorektor d/s Organizacji i Rozwoju
W pracy przedstawiono kryterium termodynamiczne doboru czynnika roboczego dla mikrosiłowni pracującej w warunkach podkrytycznych i nadkrytycznych. Przeanalizowano 20 płynów możliwych do wykorzystania w mikrosiłowni ORC. Z analizy wynika, że najlepszym płynem roboczym jest etanol, R123 oraz R141b.

Praca dotyczy przedstawienia poprawionego modelu umożliwiającego wyznaczanie współczynnika przejmowania ciepła w kanałach o małych średnicach jaj i tych tradycyjnych. Model zweryfikowano na 6 czynnikach chłodnuiczych uzyskując bardzo zadowalającą zgodność.

Utilization of waste heat recovered from the exhaust gases of the power generation unit by means of ORC (organic Rankine cycles) installation is considered. The waste heat is available in the form of a stream of hot water having temperature of 90 stC in the amount of 200 MWt. To increase evaporation temperaturę of ORC working fluid the heat of steam from the extraction points from the low-pressure part of steam turbine is used....
Obtained scientific degrees/titles
Obtained science title

prof. dr hab. inż. Mechanical engineering

(Technology)

Obtained science degree

dr hab. inż. Mechanical engineering

(Technology)

Obtained science degree

dr inż. Mechanics

(Technology)

University of Manchester, Wielka Brytania
seen 5629 times