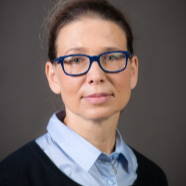 dr hab. inż. Donata Konopacka-Łyskawa
Employment
Research fields
The industrial-scale production of lignocellulosic-based biofuels from biomass is expected to benefit society and the environment. The main pathways of residues processing include advanced hydrolysis and fermentation, pyrolysis, gasification, chemical synthesis and biological processes. The products of such treatment are second generation biofuels. The degree of fermentation of organic substances depends primarily on their composition...

Vaterite is the least thermodynamically stable anhydrous calcium carbonate polymorph. It exists very rare in nature, e.g. in some rock formations or as a component of biominerals produced by some fishes, crustaceans or birds. Synthetic vaterite particles are proposed as carriers of active substances in medicines, additive in cosmetic preparations as well as adsorbents. Also, their utilization as a pump for microfluidic flow is...

Pre-treatment is a significant step in the production of second-generation biofuels from waste lignocellulosic materials. Obtaining biofuels as a result of fermentation processes requires appropriate pre-treatment conditions ensuring the highest possible degree of saccharification of the feed material. An influence of the following process parameters were investigated for alkaline pre-treatment of Salix viminalis L.: catalyst concentration...
Obtained scientific degrees/titles
Obtained science degree

dr hab. inż. Chemical engineering

(Engineering and Technology)

Zachodniopomorski Uniwersytet Technologiczny w Szczecinie

Obtained science degree

dr inż. Chemical technology

(Technology)
seen 1674 times