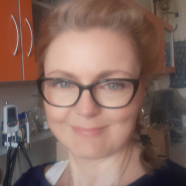 dr hab. inż. Dorota Martysiak-Żurowska
Employment
Research fields
Celem pracy było zbadanie zmian wartości całkowitego potencjału antyoksydacyjnego (TAS), stężeń witamin antyoksydacyjnych i izoprostanów (markery stresu oksydacyjnego) w siarze i mleku dojrzałym. Badaniami objęto 49 kobiet po pełno terminowej ciąży i naturalnym porodzie. Kryteria wyłączenia to czynne i bierne palenie tytoniu, ostre i przewlekłe schorzeniach oraz farmakoterapia inna niż suplementacja witamin. Próbki siary pobierano...

The aim of this study was to determine the concentrations of alpha- and gamma-tocopherols in human breast milk samples from different periods of lactation and to compare them with tocopherol content in commercially available formulas for infants at corresponding ages. The study included 93 breast milk samples obtained on the 2nd (colostrum, n=17), 14th (n=30), 30th (n=27) and 90th day of lactation (n=19), along with 90 samples...

A prototype of microwave pasteurizer has been proposed as an alternative for holder pasteurization (HP) routinely used in Human Milk Bank (HMB), ensuring microbiological safety of human milk (HM). It was shown that the time of heat generation was about 15–16 min shorter by applying the microwave than in HP. Total inactivation of heat-sensitive bacteria Escherichia coli, Pseudomonas aeruginosa, Staphylococcus aureus, and Staphylococcus...
Obtained scientific degrees/titles
Obtained science degree

dr hab. Food science

(Agricultural sciences)

Wydział Nauki o Żywności Uniwersytet Warmińsko-Mazurski

Obtained science degree

dr inż. Chemical technology

(Technology)
seen 1780 times