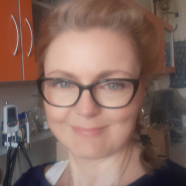 dr hab. inż. Dorota Martysiak-Żurowska
Assistant Professor
Workplace

Budynek B Wydziału Chemicznego pokój 317

Phone

(58) 347 13 06
The aim of this study was to determine the concentrations of alpha- and gamma-tocopherols in human breast milk samples from different periods of lactation and to compare them with tocopherol content in commercially available formulas for infants at corresponding ages. The study included 93 breast milk samples obtained on the 2nd (colostrum, n=17), 14th (n=30), 30th (n=27) and 90th day of lactation (n=19), along with 90 samples...

European beavers (Castor fiber) from two regions were examined to identify exposure to persistent environmental contaminants. A reference group was comprised of six animals from the Forest Division of Srokowo, and an exposed group was comprised of five animals from the vicinity of a former military airport operated in 1918–1986—both from Warmia land in Poland. 137 Cs in beavers' muscles was considered negligible for the overall...

AIM: We hypothesized that the fatty acid composition of breast milk can be affected by a smoking habit in the mother. Consequently, this study verified whether maternal smoking modulates, and if so to what extent, the breast milk fatty acid profile. METHODS: The study included 20 postpartum women who declared smoking more than five cigarettes daily throughout a period of pregnancy and lactation, and 136 non-smoking postpartum women....
Obtained scientific degrees/titles
Obtained science degree

dr hab. Food science

(Agricultural sciences)

Wydział Nauki o Żywności Uniwersytet Warmińsko-Mazurski

Obtained science degree

dr inż. Chemical technology

(Technology)
seen 543 times