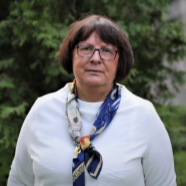 dr inż. Elżbieta Haustein
Scientific and Technical Specialist
Workplace

Budynek Hydromechaniki pokój 106 B

Phone

(58) 347 15 74
The fly ash microspheres (FAMs) formed during the mineral transformation stage in coal combustion are hollow spherical particles with a density less than water. This paper presents the results of X‐ray micro‐computed tomography and an automatic image analysis system of the porosity in the structure of hardened concrete with microspheres. Concrete mixtures with ordinary Portland cement and two substitution rates of cement by microspheres—5%...

The aim of this research is to determine the durability and strength of concrete continuous footing based on the chosen mechanical, physical, and chemical properties of the concrete. The presented investigations constitute some opinions from experts on the bearing capacity of concrete continuous footing and the possibilities of carrying additional loads and extended working life. The cylindrical specimens were taken from continuous...

Przedstawiono wyniki badań kompozytów wykonanych na bazie wapna budowlanego, cementu i dolomitu - spoiwa wiążącego z udziałem paździerzy konopi. Określono ich podstawowe właściwości, tj.: gęstość objętościową, współczynnik przewodzenia ciepła oraz wytrzymałości na ściskanie. Otrzymane wyniki dowodzą, że wytworzone kompozyty wapienno-cementowe z udziałem paździerzy konopnych są lekkie i charakteryzują się niskim współczynnikiem...
Obtained scientific degrees/titles
Obtained science degree

dr inż. Construction

(Technology)
seen 440 times