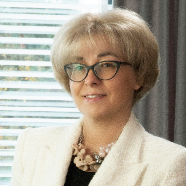 prof. dr hab. Ewa Klugmann-Radziemska
Profesor
Workplace

Budynek C Wydziału Chemicznego pokój 104 B

Phone

(58) 347 18 74

E-mail
Vice-Dean for Cooperation and Advancement
Head of Department
Workplace

Budynek C Wydziału Chemicznego pokój 104 B

Phone

(58) 347 18 74
The reduction in power output caused by the accumulation of dust on the photovoltaic module surface is an important problem and should receive much more attention in the literature. This study was an evaluation of the performance degradation of crystalline photovoltaic modules due to natural and simulated dust deposition. Dust is created from powdered grains of sand and particles of different bodies. Dust originates from different...

W pracy przedstawiono wyniki badań eksperymentalnych zmian położenia punktu maksymalnej mocy na charakterystyce prądowo-napięciowej modułu ogniw fotowoltaicznych, związanych ze zmieniającą się temperaturą i natężeniem padającego promieniowania. Badano czas narastania napięcia pracy i temperatury ogniw w początkowej fazie ekspozycji na promieniowanie słoneczne. Przedstawiono niektóre praktyczne aspekty zastosowania układu automatycznego...

The worldwide growth of photovoltaics (PVs) has formed an exponential curve for more than four decades. During this period of time, PVs have evolved from a pure niche market of small-scale applications towards becoming a mainstream electricity source. The influence of temperature on the electrical parameters of crystalline silicon solar cells and solar modules is well described in the literature. In order to diminish these effects,...
Obtained scientific degrees/titles
Obtained science title

prof. dr hab. Mechanical engineering

(Technology)

Politechnika Koszalińska

Obtained science degree

dr hab. Mechanical engineering

(Technology)

Politechnika Koszalińska
seen 599 times