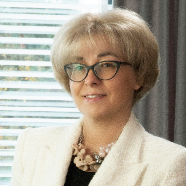 prof. dr hab. Ewa Klugmann-Radziemska
Head of Department
Workplace

Budynek C Wydziału Chemicznego pokój 104 B

Phone

(58) 347 18 74
Vice-Dean for Cooperation and Advancement
The reduction in power output caused by the accumulation of dust on the photovoltaic module surface is an important problem and should receive much more attention in the literature. This study was an evaluation of the performance degradation of crystalline photovoltaic modules due to natural and simulated dust deposition. Dust is created from powdered grains of sand and particles of different bodies. Dust originates from different...

The worldwide growth of photovoltaics (PVs) has formed an exponential curve for more than four decades. During this period of time, PVs have evolved from a pure niche market of small-scale applications towards becoming a mainstream electricity source. The influence of temperature on the electrical parameters of crystalline silicon solar cells and solar modules is well described in the literature. In order to diminish these effects,...

This paper presents the possibility of adding lightweight building aggregates to increase the stability – mechanical as well as thermal - of constructions and road objects. This stability can be achieved through saturating the porous granules of aggregate with a phase-change material (PCM) that allows the accumulation of solar heat. Intense solar radiation, especially during the summer, can cause the asphalt on road surfaces, bridges...
Obtained scientific degrees/titles
Obtained science title

prof. dr hab. Mechanical engineering

(Technology)

Politechnika Koszalińska

Obtained science degree

dr hab. Mechanical engineering

(Technology)

Politechnika Koszalińska
seen 3988 times