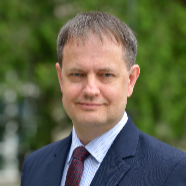 Associate Professor
Workplace

Gmach B pokój 610

Phone

(58) 347 22 49
Head of Department
Workplace

Gmach B pokój 504

Phone

(58) 347 22 62
Sample entropy (SampEn) was reported to be useful in the assessment of the complexity of heart rate dynamics. Permutation entropy (PermEn) is a new measure based on the concept of order and was previously shown to be accurate for short, non-stationary datasets. The aim of the present study is to assess if SampEn and PermEn obtained from baseline recordings might differentiate patients with various outcomes of the head-up tilt test...

Let M be a smooth compact and simply-connected manifold with simply-connected boundary ∂M, r be a fixed odd natural number. We consider f, a C1 self-map of M, preserving ∂M . Under the assumption that the dimension of M is at least 4, we define an invariant Dr(f;M,∂M) that is equal to the minimal number of r-periodic points for all maps preserving ∂M and C1-homotopic to f. As an application, we give necessary and sufficient...

Let f be a smooth self-map of the m-dimensional sphere Sm. Under the assumption that f preserves latitudinal foliations with the fibres S1, we estimate from below the number of fixed points of the iterates of f. The paper generalizes the results obtained by Pugh and Shub and by Misiurewicz.
Obtained scientific degrees/titles
Obtained science degree

dr hab. Mathematics

(Mathematics)

Uniwersyteet Adama Mickiewicza
seen 555 times