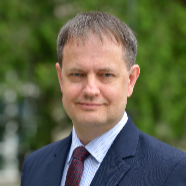 prof. dr hab. Grzegorz Graff
Profesor
Workplace

Gmach B pokój 610

Phone

(58) 347 22 49
Head of Doctoral Studies
Workplace

Gmach Główny pokój 103 B

Phone

(58) 347 13 10
Vice-Dean for Scientific Research
Workplace

Gmach Główny pokój 103 B

Phone

(58) 347 13 10
The recognition of all main features of a healthy heart rhythm (the so-called sinus rhythm) is still one of the biggest challenges in contemporary cardiology. Recently the interesting physiological phenomenon of heart rate asymmetry has been observed. This phenomenon is related to unbalanced contributions of heart rate decelerations and accelerations to heart rate variability. In this paper we apply methods based on the concept...

Previous studies reported that normobaric hyperoxia influences heart rate, arterial pressure, cardiac output and systemic vascular resistance, but the mechanisms underlying these changes are still not fully understood. Several factors are considered including degeneration of endothelium-derived nitric oxide by reactive oxygen species, the impact of oxygen-free radicals on tissues and alterations of autonomic nervous system function....

Sample entropy (SampEn) was reported to be useful in the assessment of the complexity of heart rate dynamics. Permutation entropy (PermEn) is a new measure based on the concept of order and was previously shown to be accurate for short, non-stationary datasets. The aim of the present study is to assess if SampEn and PermEn obtained from baseline recordings might differentiate patients with various outcomes of the head-up tilt test...
Obtained scientific degrees/titles
Obtained science degree

dr hab. Mathematics

(Mathematics)

Uniwersyteet Adama Mickiewicza
seen 1966 times