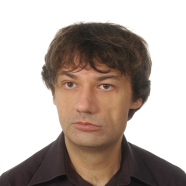 dr hab. inż. Grzegorz Szwoch
A novel approach to detection of stationary objects in the video stream is presented. Stationary objects are these separated from the static background, but remaining motionless for a prolonged time. Extraction of stationary objects from images is useful in automatic detection of unattended luggage. The proposed algorithm is based on detection of image regions containing foreground image pixels having stable values in time and...

A procedure of calibration of a custom 3D acoustic vector sensor (AVS) for the purpose of direction of arrival (DoA) estimation, is presented and validated in the paper. AVS devices working on a p-p principle may be constructed from standard pressure sensors and a signal processing system. However, in order to ensure accurate DoA estimation, each sensor needs to be calibrated. The proposed algorithm divides the calibration process...

Results of evaluation of the background subtraction algorithms implemented on a supercomputer platform in a parallel manner are presented in the paper. The aim of the work is to chose an algorithm, a number of threads and a task scheduling method, that together provide satisfactory accuracy and efficiency of a real-time processing of high resolution camera images, maintaining the cost of resources usage at a reasonable level. Two...
Obtained scientific degrees/titles
Obtained science degree

dr hab. inż. Information and communication technology

(Engineering and Technology)

Obtained science degree

dr inż. Telecommunications

(Technology)
seen 735 times