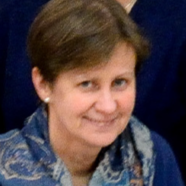 dr hab. inż. Hanna Staroszczyk
Associate professor
Workplace

Budynek B Wydziału Chemicznego pokój 209

Phone

(58) 347 11 95
Films based on fish gelatin, chitosan and blend of fish gelatin and chitosan before and after cross-linking with EDC have been characterized by FT-IR spectroscopy. The FT-IR spectrum of fish gelatin film showed the characteristic amide I, amide II and amide III bands, and the FT-IR spectrum of chitosan film confirmed that the polymer was only a partially deacetylated product, and included CH3-C=O and NH2 groups, the latter both...

Cod gelatin films before and after cross-linking of gelatin with 1-ethyl-3-(3-dimethylaminopropyl) carbodiimide (EDC) or transglutaminase (TGase) have been characterized by FT-IR spectroscopy and DSC analysis. For comparison, a film prepared from unmodified pig gelatin has been also analysed. The difference spectra showed that cod gelatin during the film formation involved first of all water-to-amide hydrogen bonds, and the film...

Huge amount of keratinous waste, especially birds' feathers, demands more value-added application instead of dumping. The present work reports the results of experiments aimed at preparing soluble keratin useful for novel bioproduct formation. The effect of thermo-chemical treatments with various reducing agents, i.e. 2-mercaptoethanol, dithiothreitol, sodium m-bisulphite, and sodium bisulphite, as well as sodium hydroxide, on...
seen 3173 times