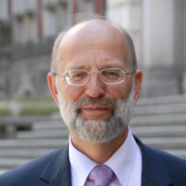 prof. dr hab. inż. Henryk Krawczyk
Profesor
Workplace

Gmach Elektroniki Telekomunikacji i Informatyki pokój 520

Phone

(58) 347 10 18
Director of Computer Centre TASK
Workplace

Gmach Elektroniki Telekomunikacji i Informatyki pokój 520

Phone

(58) 347 10 18
The algorithm for people counting in crowded scenes, based on the idea of virtual gate which uses optical flow method is presented. The concept and practical application of the developed algorithm under real conditions is depicted. The aim of the work is to estimate the number of people passing through entrances of a large sport hall. The most challenging problem was the unpredicted behavior of people while entering the building....

In recent years, increasingly complex algorithms for automated analysis of surveillance data are being developed. The rapid growth in the number of monitoring installations and higher expectations of the quality parameters of the captured data result in an enormous computational cost of analyzing the massive volume of data. In this paper a new model of online processing of surveillance data streams is proposed, which assumes the...

Number of mobile devices and applications is growing rapidly in recent years. Capabilities and performance of these devices can be tremendously extended with the integration of cloud computing. However, multiple challenges regarding implementation of these type of mobile applications are known, like differences in architecture, optimization and operating system support. This paper summarizes issues with mobile cloud computing and...
seen 1071 times