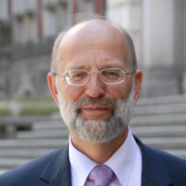 prof. dr hab. inż. Henryk Krawczyk
Director of Computer Centre TASK
Workplace

Gmach Elektroniki Telekomunikacji i Informatyki pokój 520

Phone

(58) 347 10 18
Full Professor
Workplace

Gmach Elektroniki Telekomunikacji i Informatyki pokój 520

Phone

(58) 347 10 18
In recent years, increasingly complex algorithms for automated analysis of surveillance data are being developed. The rapid growth in the number of monitoring installations and higher expectations of the quality parameters of the captured data result in an enormous computational cost of analyzing the massive volume of data. In this paper a new model of online processing of surveillance data streams is proposed, which assumes the...

A multilateral trust between a user and a system is considered. First of all we concentrate on user trust levels associated with the context-oriented CoRBAC model. Consequently, there were computed user profiles on the basis of its implementation in the information processing system "My GUT". Furthermore, analysis of these profiles and the impact of user trust levels on system security and usability have been discussed.

Number of mobile devices and applications is growing rapidly in recent years. Capabilities and performance of these devices can be tremendously extended with the integration of cloud computing. However, multiple challenges regarding implementation of these type of mobile applications are known, like differences in architecture, optimization and operating system support. This paper summarizes issues with mobile cloud computing and...
seen 925 times