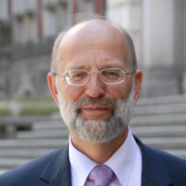 prof. dr hab. inż. Henryk Krawczyk
Director of Computer Centre TASK
Workplace

Gmach Elektroniki Telekomunikacji i Informatyki pokój 520

Phone

(58) 347 10 18
Professor
Workplace

Gmach Elektroniki Telekomunikacji i Informatyki pokój 520

Phone

(58) 347 10 18
The algorithm for people counting in crowded scenes, based on the idea of virtual gate which uses optical flow method is presented. The concept and practical application of the developed algorithm under real conditions is depicted. The aim of the work is to estimate the number of people passing through entrances of a large sport hall. The most challenging problem was the unpredicted behavior of people while entering the building....

A concept and practical implementation of a crowd management system which acquires input data by the set of monitoring cameras is presented. Two leading threads are considered. First concerns the crowd behavior analysis. Second thread focuses on detection of a hold-ups in the doorway. The optical flow combined with soft computing methods (neural network) is employed to evaluate the type of crowd behavior, and fuzzy logic aids detection...

The recently deployed supercomputer Tryton, located in the Academic Computer Center of Gdansk University of Technology, provides great means for massive parallel processing. Moreover, the status of the Center as one of the main network nodes in the PIONIER network enables the fast and reliable transfer of data produced by miscellaneous devices scattered in the area of the whole country. The typical examples of such data are streams...
seen 3745 times