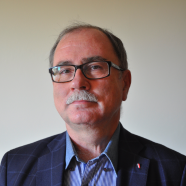 Reader
Workplace

Gmach Główny pokój 56

Phone

(58) 347 19 96
The paper covers the following topics important for the development of the new Polish Catalogue of typical flexible and semi-rigid pavements: reasons for preparing the new issue of the Catalogue of typical flexible and semi-rigid pavements, items introduced in the new issue, organise the terminology related to pavements, design traffic calculations and new equivalent axle load factors,...

Zaprojektowanie mieszanki mineralno-asfaltowej, zawierającej granulat asfaltowy, wymaga wiarygodnej informacji, dotyczącej jego właściwości. W artykule przedstawiono informacje dotyczące zalecanych zasad pobierania próbek granulatu oraz omówiono zakres niezbędnych badań. Przedstawiono wymagania normy EN 13108-8 oraz zasady stosowane w wybranych krajach w odniesieniu do oceny właściwości asfaltu i kruszywa zawartych w granulacie...

W roku 2016 została wprowadzona nowelizacja normy EN 13108-8, odnoszącej się do destruktu asfaltowego. Wprowadza ona nowy termin oraz istotne zmiany w dotąd stosowanych definicjach i opisie mieszanki mineralno-asfaltowej, przeznaczonej do powtórnego wykorzystania. Autor omówił zakres zmian i zwrócił uwagę na ich możliwe konsekwencje w odniesieniu do praktyki stosowania destruktu asfaltowego w Polsce.
Obtained scientific degrees/titles
Obtained science degree

dr inż. Construction

(Technology)
seen 207 times