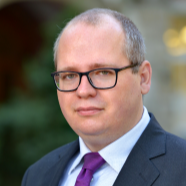 dr hab. inż. Jacek Ryl
Professor
Workplace

Przejście Podziemne pokój 014

Phone

(58) 347 10 92
In this study the efficiency of electrochemical oxidation of aromatic pollutants, such as reactive dyes, at boron-doped diamond on silicon (Si/BDD) electrodes was investigated. The level of [B]/[C] ratio which is effective for the degradation and mineralization of selected aromatic pollutants, and the impact of [B]/[C] ratio on the crystalline structure, layer conductivity and relative sp3/sp2 coefficient of a BDD electrode were...

In this work, brewers' spent grain (BSG) and ground tire rubber (GTR) waste fillers were applied as low-cost reinforcement phase in rigid polyurethane foam (PUR). PUR/BSG/GTR composites were prepared by a single step method, using polyglycerol as partial substitute of commercially available petrochemical polyols. Foaming parameters, chemical structure, dynamic mechanical properties, thermal stability, physico-mechanical properties...

W pracy przedstawiono wyniki badań impedancyjnych otrzymanych podczas ekspozycji stopu MM55 w środowisku sztucznej wody morskiej. Wykazano ścisłą korelację charakterystyk impedancyjnych ze stężeniem benzotriazolu. Przedstawiono czasową ewolucję ochronnego efektu inhibicyjnego.
seen 1858 times