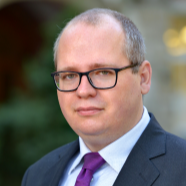 Associate Professor
Workplace

Przejście Podziemne pokój 014

Phone

(58) 347 10 92
The paper discusses the synthesis and performance of iodine doped titania nanotube arrays exhibited under irradiation. The doping procedure was performed as an additional, electrochemical process carried out after formation of nanotube arrays via anodization of Ti substrate. The optical and structural properties were characterized using Raman, UV-vis, photoluminescence and X-ray photoelectron spectroscopy. The surface morphology...

Growth processes of diamond thin films on the fused silica optical fibres (10 cm in length) were investigated at various temperatures. Fused silica pre-treatment by dip-coating in a dispersion consisting of detonation nanodiamond (DND) in dimethyl sulfoxide (DMSO) with polyvinyl alcohol (PVA) was applied. Nanocrystalline diamond (NCD) films were deposited on the fibres using the microwave plasma assisted chemical vapour deposition...

Doping of TiO2 nanotube arrays with boron was realized via electrochemical treatment of as-anodized titania immersed in electrolyte containing boric acid. The photoactivity of doped and pure titania was examined by means of photoelectrochemical and photocatalytic response under UV-vis irradiation. The results showed that photocurrent density of B-TNTs is remarkably higher (7.5 times) than density of pure TiO2 nanotube arrays. Furthermore,...
seen 590 times