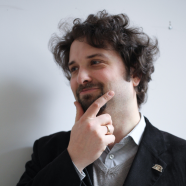 dr inż. Jacek Szmagliński
The paper presents the campaigns of mobile satellite measurements, carried out in 2009–2015 on the railway and tram lines. The accuracy of the measurement method has been analysed on the basis of the results obtained in both horizontal and vertical planes. The track axis deviation from the defined geometric shape has been analysed in the areas clearly defined in terms of geometry, i.e. on the straight sections and sections with...

At present, the problem of rail routes reconstruction in a global reference system is increasingly important. This issue is called Absolute Track Geometry, and its essence is the determination of the axis of railway tracks in the form of Cartesian coordinates of a global or local coordinate system. To obtain such a representation of the track centerline, the measurement methods are developed in many countries mostly by the using...

In this article, the results of the research in a field of which uses active global navigation satellite system (GNSS) geodetic networks for the inventory of geodetic geometric tram tracks are presented. The applied measurement technique has been adapted for the designing of the geometric layout of tram tracks. Several configurations of receivers and settings of an active GNSS networks with the objective to increase the accuracy...
seen 472 times