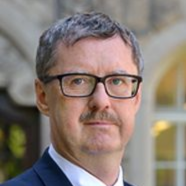 dr hab. inż. arch. Jakub Szczepański
Associate Professor
Workplace

Gmach Główny pokój 319

Phone

(58) 347 27 87
Vice-Dean for Scientific Research
Workplace

Gmach Główny pokój 505

Phone

(58) 347 16 33
The article is aimed to answer the question how, depending on the historical heritage, the collective memory, the physical space of the city and their images were shaped, through the politics of memory. All known cultures and languages distinguish the 'self' and the 'other', 'us' and 'them'. Neither do we know cities which wish to differ in some particular way, although they can have numerous identities. Their multitude and diversity...

Budynki i układ przestrzenny zespołu Politechniki Gdańskiej są doskonałym dokumentem są przemian architektury w XX wieku. Niezależnie od będącej przedmiotem dyskusji ciągłości lub nieciągłości dziejów uczelni jako instytucji prowadzącej badania naukowe i kształcącej studentów, jej architektura stanowi jednolitą całość. Położony u wylotu malowniczej doliny okolonej zielonymi wzgórzami zespół tworzą obiekty reprezentujące najważniejsze...

One of the basic theoretical postulates for the protection of monuments is to preserve them in the place of their creation. However, such action is not always possible to implement. The great historical processes of the 20th century led to significant national, political, religious and cultural changes in the border areas between Poland and Ukraine. As a result of those changes, a large number of wooden churches have lost their...
Obtained scientific degrees/titles
Obtained science degree

dr hab. inż. arch. Architecture and urban sciences

(Technology)

Wydział Architektury Politechniki Wrocławskiej
seen 1123 times