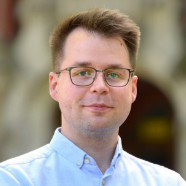 The face-to-face association of (E)-1,2-di(4-pyridyl)ethylene (bpen) molecules into rectangular motifs stabilized for the first time by chalcogen bonding (ChB) interactions is shown to provide photoreactive systems leading to cyclobutane formation through single-crystal-to-single-crystal [2+2] photodimerizations. The chelating chalcogen bond donors are based on original aromatic, ortho-substituted bis(selenocyanato)benzene derivatives...

Several new 4-iodoethynyl- and 4,7-bis- (iodoethynyl)benzo-2,1,3-chalcogenadiazoles were prepared, and a comprehensive analysis of the most prominent secondary bonding interactions responsible for the crystal self-assembly was performed using X-ray diffraction. The presence of both the iodoethynyl and chalcogenadiazole moieties allows an evaluation of the preference of these molecules to aggregate through either chalcogen- or halogen-bonding...

Cocrystals of seven star-shaped triaryl compounds with pentafluorophenol (pfp) were prepared and structurally characterized by the single-crystal X-ray diffraction method. Cocrystallization of pfp with planar (or almost planar) compounds gave six 3:1 molecular complexes with well-defined layered structures. The layers are composed of alternating pfp3 trimers, linked by hydrogen bonding, and triaryl molecules held together in planes...
seen 1052 times